There's a
battle
over prairie dogs in Kansas. Which leads me to wonder
what new words
the prairie dogs have come up with for the bastards that are sneaking in to their colony and poisoning them.
Prairie dogs have very sophisticated language skills. They have adjectives, syntax, and can invent new words for, say, "that guy in the yellow shirt who keeps coming around and studying us." They also refer to the size and shape of the person who visits, and they generalize: when a bunch of guys in lab coats started showing up, they made a sound that indicated something along the lines of "one of those guys in lab coats."
One of the guys they probably have a word for is named Con Slobodchikoff.
Con is a
professor at Northern Arizona State
and he's written lots of articles about prairie dog language which are available online. The introduction to
this one
gives a great rundown of prairie dog language and also mentions a bunch of other species that have language (chickens, monkeys, squirrels). He gets right at the problems of studying animal communication in an article called
Anthropomorphism, anecdotes, and animals
. Here's a quote:
If we looked for the common "meaning" that could be associated with most human vocal communications we would have to conclude that speech perhaps was a means whereby humans located each other- in other words, that one human made noise and the other made a return noise. (Lieberman, 1975)"
Although in fact, we make return noises an awful lot.
Yo. 'Sup. Hey. 'Morning. Hi. Dude. OMG.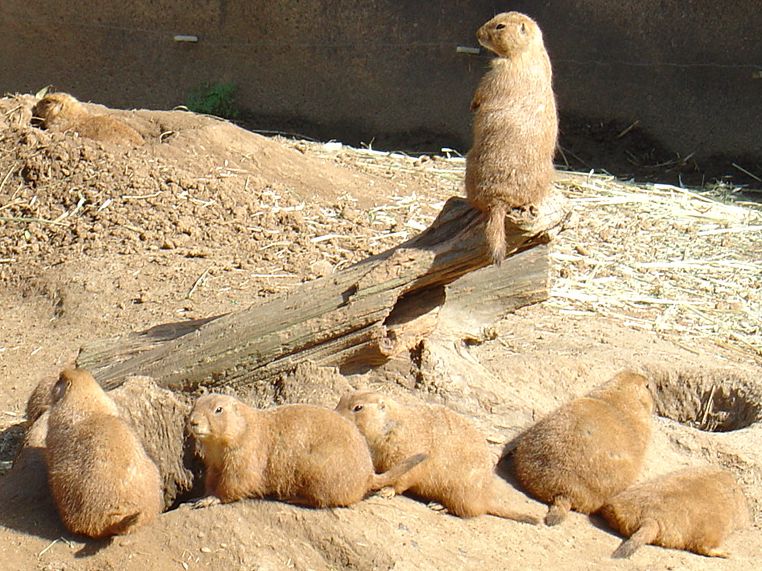 I think we work too hard not to believe in the behavior of animals when it doesn't fit our debased idea of animal intelligence. We're ready to believe that Flipper can call the FBI, but we make a huge effort not to understand that squirrels, for instance, have language. Maybe it's just too humiliating. Thinking that a tightrope walking master criminal who is cute as a button and way more agile than we are ALSO has language might just make us so jealous that we'd freak out.
Perhaps we should start slow. Maybe with today's
other
animal story in the NYTimes, which features the box turtle who, upon hearing the sound of a spoon clinking on an ice cream bowl, would come out from behind the couch, stand on its hind legs and open its mouth.