Saga 2 is up on the website! I'm in the thickets of Saga 3 right now, but I still love working large. Saga 2 is seven feet eight inches long. Here is a tiny picture of the huge painting. You can see it bigger
on my website
.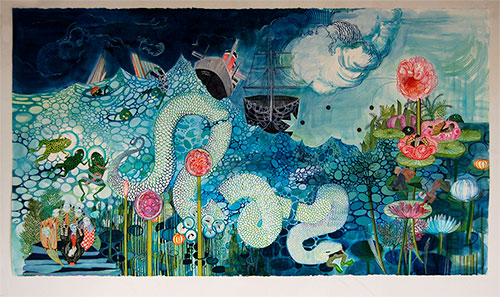 There are are some funny references in the piece. The black ship on the right is the U.S.S. Constitution, and the one on the S.S. United States, which is a sad wreck of an ex-cruise ship that is docked across from IKEA in Philadelphia. There are several recognizable political figures in the painting (many of them show up as a well-dressed species of invasive aquatic sponge) and the flowers from
Saga 1
, which I came to think of as hysterical media beasts, have weaponized their speech. These paintings connect end to end, and they are meant to be read as one big narrative, from left to right.
I post pictures of my work in progress on Instagram a fair amount now (I'm the_drawist), and there's a nice picture of Saga 1 and 2 together there, as well as a few shots from a wonderful show I saw at the National Gallery recently:
Outliers and American Vanguard Art,
which was so, so good.