I've got a new drawing in progress that I'm really excited about, but in the meantime, I've been discovering great poems for kids.
My friends Dino Pellicia and Anda Dubinskis, who both happen to be wonderful artists, gave me a great book of children's poetry that they used to read to their eldest son to help him fall asleep. It's a wonderful anthology- way better than any others that I've found so far (and I'm kind of a geek this way- I've been looking for a while). There's not a lot of competition. The anthologies I've seen so far don't hold a candle to the one Dino gave me, which a falling apart copy that was as well worn, soft and earmarked as mine has already become in the few months since I ordered my own. It's called Favorite Poems Old and New by Helen Ferris.
This is her. It is perhaps retrograde to comment on the fact that she looks like a librarian, but it turns out that you want someone with librarian impulses picking your poems for you. Especially if it's Helen Ferris. She must have been obsessed with Children's Poetry.
One gets the sense that she read everything that there was to read for years- the book is just too good, too thorough and too smart- and it's 640 pages long.
I did a little research about her and discovered that she was was editor-in-chief of the Junior Literary Guild from 1929–1959.
Favorite Poems Old and New
was published in 1957. I find it entirely plausible that she worked on this book, collecting poems and squirreling them away, researching old and forgotten authors and finding new great stuff- for at least 27 years. However long it took,
it paid off, because she wrote the book that is still clearly the best over half a century later.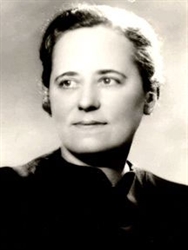 I often fantasize about approaching someone and asking if I can edit a new edition for the new century. 1957 was a long time ago, and that's a good thing. There is some ugly racism and a few crazily rhythmic poems that use the language of a fake Italian immigrant and many of the rest of the things that you'd expect in something from a 1957 white person. Except that the person involved was Helen Ferris, who makes you sad that she wasn't completely better than her time. I dare you not to love her a little if you read this book. Every single poem in the book is there for a reason, and the reasons are great. Helen liked things honest, funny, beautiful and real, and most of the poems are at least two of those things, usually three.
There are short ones:
Algy met a bear
the bear was bulgy.
The bulge was Algy.
And all the long ones I remembered liking as a kid. But there are also a million more equally good ones that I should have liked but never heard, like Custard the Dragon (realio, trulio), The Rum Tum Tigger and The Song of Mr. Toad.
(See the great illustration below by Kerry Lemon from the London Times.)
Helen Ferris was a big fan of funny, and she had a good ear. She liked ridiculous, too.
Once a Big Molicepan
Once a big molicepan
Saw a bittle lum
Sitting on the sturbcone
Chewing gubble bum.
"hi!" says the molicepan,
"Better simmie gome!"
"Tot on your nintype!" says the bittle lum.
(Not on your tintype, the internet informs me helpfully, meant no, but the idiom seems to have existed for no good reason, which is explained at some length
here
.)
Eletelephony by Laura Richards
Once there was an elephant,
Who tried to use the telephant—
No! no! I mean an elephone
Who tried to use the telephone—
(Dear me! I am not certain quite
That even now I've got it right.)
Howe'er it was, he got his trunk
Entangled in the telephunk;
The more he tried to get it free,
The louder buzzed the telephee—
(I fear I'd better drop the song
Of elephop and telephong!)
Today I am in love with this guy's poem. Isn't he handsome? It's a shame he's married. And dead. His name is Thomas Hood, and he lived from 1799–1845 and wrote the truest, funniest account of parenting that I have read so far. A Parental Ode to My Son, Aged Three Years and Five Months.