Gallery Joe, the gallery that sold my work in Miami last month, recently sold another one of my drawings. It's a small piece based on the Roman de la Rose, a medieval text that details the anatomy of love. It's a wonderful, irreverent story, and there are several places where you can read it online, including a site made by the
Pierpont Morgan Library
that will let you look at their medieval manuscripts page by page if you ask them nicely for a password.
I'm hard at work on a new large drawing and have finished another one called
Possessions
. I'm still making work with big and small text, so I put several details online so that people can read the small text. The piece is on my website
here
, and if you click the images on the website you can see
details
.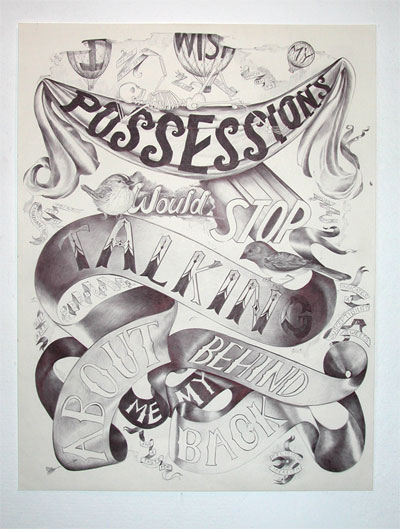 I do my drawings sitting in front of a window that looks out over my downstairs neighbor's roof. Right now my window offers a pretty grim view of my dead garden and my frozen birdbath, which I occasionally fill with hot water in order to break up the ice. Squirrels, cardinals, doves and fleets of sparrows show up to drink out of my birdbath when it's not iced over. This bird was drawn from life on a cold day when his feathers were all puffed up.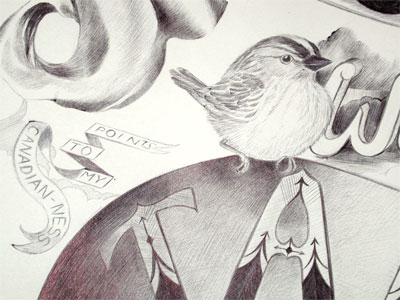 The other new piece on the site is
Originality
, a drawing I made when I was starting this series of word based images.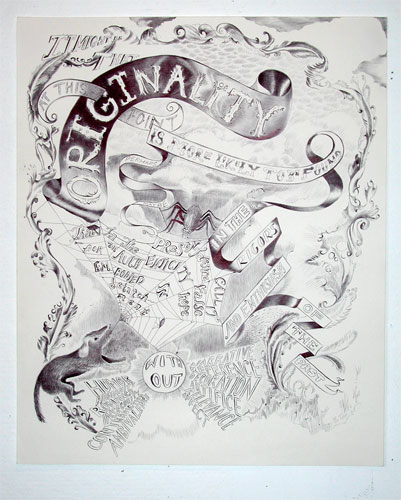 You can see it bigger online
here
. The detail below talks about some of the qualities of art that I want to see more often.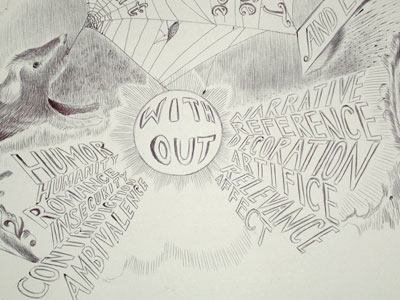 Becky Kerlin at Gallery Joe has both of these pieces in the gallery files right now, as well as some less recent drawings of what she very aptly refers to as "critters."
(There was a time when the animals I drew caused consternation to people who looked at my work: they were either rabbits or mice or bears, but it wasn't clear which. The best compromise came from a six year old boy who looked in the window of my studio at the Millay Colony and pronounced his solution to the dilemma with great authority. "Mousebears.")