This Saturday morning at 9:30 I hauled my insufficiently caffienated butt up the stairs of the Philadelphia Sketch Club. The club is housed in a beautiful old building in an alley midway between City Hall and my house. There's a great little sign and a website that says that members of the public are invited to open figure drawing sessions. I checked the website more than once: it's one of those places that looks like it's only open to men with cigars.




The club was founded in 1860. It has lots of famous alums, notably Thomas Eakins, who taught there until he ripped the loincloth off a male model in front of a female student, which got him banned from Sketch Club, the Pennsylvania Academy, and Drexel University.




Look at him laughing.


My mother and some other artist friends of hers do figure drawing at her printmaking studio in Texas every Sunday afternoon. I often wish I spent Sundays drawing with my mom, but that not being quite within the budget, I bought myself one of those dopey masonite boards and a big pad of unprecious paper and arrived at the club with charcoal stuffed into the least probable pocket of my cargo pants. The door was just barely open. I went in and climbed up some stairs, charcoal banging on my ankle, to the second floor. Once I was at the top of the stairs I was sure I was in the right place. The place looks like it's right out of the 18th century, but that's not too far from what any drawing studio looks like today.

There were easels all over the place, about ten other sleepy people setting up their sketchpads, and tea. The walls were plastered with framed art that seems to have been selected according to some mysterious standard - it's not inconcievable that this was the "Artists whose names start with P" exhibit. There were a bunch of pleasant looking women sipping tea and waiting for the model to show up and a man who was dropping the names of 19th century artists like they were shiny pennies. A member of the club gave me free graphite leads in a sweetly ribboned box, just for showing up.

We started drawing and I felt like the tin woodman coming to life. I'd forgotten how to use charcoal, to draw on an easel, and to see human proportions. Last year I did a lot of drawing at the zoo, which has paid off in my drawing hand, but monkey drawing, it turns out, is a lot easier than people drawing, because when you're drawing a weird looking monkey foot you think, "Monkey feet are really weird" and draw what you see, and when you see a weird angle of a human foot you say, "That can't be right" and mess up your drawing. It was tremendously difficult. And interesting, and addictive, and eternal.

There is something great about the fact that from 9:30 to 12:30 on Saturdays, a bunch of people show up and try to figure out how to draw a nose. They've been doing it for over a hundred years in that same room.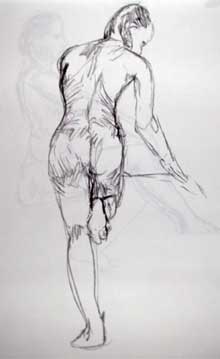 I'm not sure what figure drawing has to do with my art, but I'm going to keep at it. It feels vital- in the sense that it feels like life, like it's healthy, like it's basic. It's trying, for three hours, to commemmorate the face of a stranger who is sitting still in front of you. It's trying to make something that looks like what your hands and eyes are doing right now, in this place.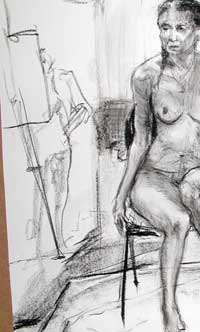 It strikes me as like action painting, but in a funny way, as more honest than action painting. There's still a quick formal dialogue with the materials, but there's an acknowledgement of the outside world. It's working in the in-between place of Cezanne, where it's not all your intention and your forethought- it's your hand and your eye and your skill in a limited time frame. Which is not to say that it's all about what's in front of you, but it's a lot more about what's in front of me than what I usually paint.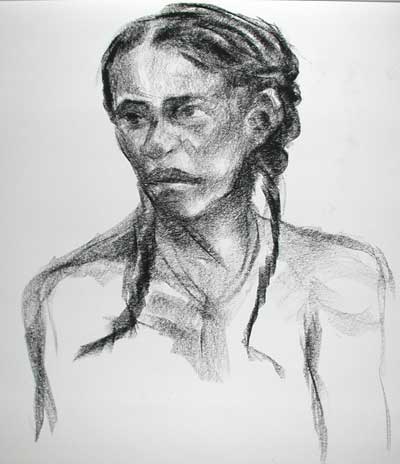 Figure drawing pushes one into the present. And I'm not sure there's any better place to be in the present, failing to get the eyes right because they've moved since you last drew them than in Eakins' old rooms, ...